The following article is about a Manitoba Employer who has benefited from hiring someone with a disability. It was originally published in the Winnipeg Free Press and collected through an initiative called "Perspectives in Change".
Celebrating Progressive Employers & Capable Employees
Howland Hotel in Beausejour MB
By Sylvia Jansen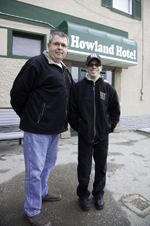 Bill Duff (left) and
Mark Rogocki
Photo: Lisa Waldner
Mark Rogocki moves through the store room of the Howland Hotel in Beausejour with ease and confidence. He knows where everything is; after all, he put it in place. This is his work domain. The fact that he has an intellectual disability is just part of who he is. The fact that the Howland employs him is just part of a bigger vision around a good business and its part in a community.
The Howland is a community place. Its restaurant buzzes with activity, the bar (affectionately called "The Office") serves clientele in a clean and friendly atmosphere, and the business supports no fewer than ten ball teams in the summer. 
Within this organization, Rogocki's duties include unloading beer deliveries each week, organizing and stocking the store rooms, helping customers to their vehicles with purchases, and maintaining the clean appearance of the outside grounds. His job was initially carved from a practical re-alignment of the duties of others. "Before we hired Mark I used to do a lot of that work!" says Bill Duff, general manager of the Howland. Working with a supported employment agency, Duff initially hired Rogocki on a temporary contract, "but he worked so well that we decided we had to continue." Rogocki is now a permanent part-time employee, earning a competitive wage.
"Mark is happy and reliable, he jokes with other staff, he treats customers well, and everyone treats him with great respect." Duff strongly recommends that other employers consider hiring someone with an intellectual or developmental disability. "There is no risk involved. Any initial effort is far outweighed by the benefits of having a loyal, dedicated employee."
Connecting Employers and People
It's good business. Many employers discover that, as with all good hires, a good fit with an employee with an intellectual disability means reduced turnover and increased success for everyone. Supported employment agencies help connect the right people with the right employer. They help with training, and provide ongoing support to employee and employer—all without cost to the employer.
The agency that connected Mark Rogocki with the Howland Hotel is Supported Employment Options, a division of The Association of Community Living Beausejour Branch, in Beausejour, MB (204-268-4653).
Sponsored by Perspectives in Change
Thank you Manitoba Marathon... succeeding in the long run.