Ideas For Educators
Disability Employment Awareness Month is a great annual opportunity for you to encourage people with disabilities to be more optimistic and proactive in their career development, education and work experience. Here are some ideas for you to consider: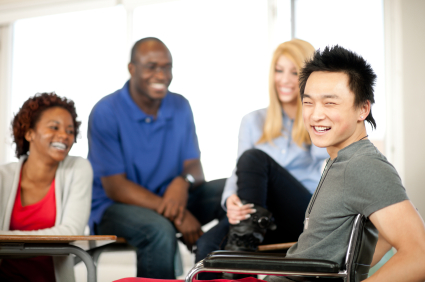 Hold a Discussion — DEAM presents an opportune time to discuss the topic of disability employment with students, particularly those at an age when they are considering career options and learning about the world of work. One easy way to do so is to show the "A Hire Awareness Video" and offer some prepared questions for group discussion.

Create a Display — DEAM is a great time to freshen up bulletin boards. Start by putting up this year's DEAM poster. Educational supply stores may also offer other materials with positive images featuring people with disabilities in various community and employment settings.

Organize an Assembly — Another option is to hold an assembly addressing the topic of disability employment, with content tailored as appropriate for age. Such an assembly might feature guest speakers from local disability service organizations and/or people with disabilities in various professions willing to talk about their jobs, interests and experiences. (See this list of disability-related Community Organizations with an employment focus.)

Take Part in the employABILITY Expo – A highlight of DEAM in Manitoba, the employABILITY Expo is a great opportunity to show your support of DEAM. The breakfast keynote is a great way to educate some of your employees. As an Exhibitor, you can connect with possible employees, network with other Exhibitors, and heighten your profile as a disability-friendly company. As a Sponsor, you can achieve high visibility as a company committed to inclusive employment practices.

Engage Student Leaders — Faculty advisors, to groups such as student councils and student-led publications or other media, can suggest DEAM as a possible hook for content during October. For example, a student council might invite a local community leader with a disability to a meeting to speak about his or her experiences. Likewise, student reporters might interview such an individual or write an article/produce a segment on the contributions of many famous people with disabilities throughout history.
Of course, as employers themselves, schools, school districts and youth service provider organizations are also encouraged to recognize DEAM among their staff. For ideas on how to do so, see Ideas For Companies/Employers