The following article is about a Manitoba Employer who has benefited from hiring someone with a disability. It was originally published in the Winnipeg Free Press and collected through an initiative called "Perspectives in Change".
Celebrating Progressive Employers and Capable Employees
Thompson Crisis Centre
By Sylvia Jansen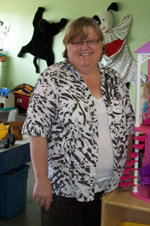 JoAnn Coughlin at work
Thompson, Manitoba: Twenty-four hours a day, 365 days a year, the Thompson Crisis Centre (TCC) offers a crisis line and emergency shelter. For those whose lives are in chaos, the centre gives support, counseling, transitional housing and essential services.
During this stressful time in the lives of families, even a small hand-made craft celebrating the connection between child and mother can make a huge difference. JoAnn Coughlin in the child-minding centre is one of the staff members who offer quality care when parents in TCC have appointments. Coughlin makes the child-minding centre a supportive and creative place for children, despite the stress in their lives. Parents feel confident leaving their children with Coughlin.
The fact that Coughlin is hard of hearing has not affected her remarkable success in this challenging work. Coughlin has faced obstacles in work and education because of misunderstanding and negative labeling; however, the Thompson Supported Employment Program helped to connect her as a potential employee with TCC. Coughlin was hired in the child-minding centre because of her many abilities and life skills. She is now employed full-time with a competitive salary; she is a dedicated employee valued by co-workers and clients alike.
Coughlin's colleagues encourage other employers to consider working with a supported employment agency. "We all are surrounded by labels of what people can and cannot do," says Leslie Tucker, former director of TCC. "If we think about who can be included, really it is just about everybody."
Connecting Employers and People
It's good business.  Many employers discover, as with all good hires, a good fit with an employee labeled with a disability means reduced turnover and increased success for everyone.   Supported employment agencies help connect the right people with the right employer.  They help with training, and provide ongoing support to employee and employer—all without cost to the employer.
The agency that connected JoAnn Coughlin with her employer is:
Thompson Supported Employment Program
303-83 Churchill Drive, Thompson, R8N 0L5
204-677-8322 or 888-367-0268
Sponsored by Perspectives in Change
Thank you Manitoba Marathon . . .succeeding in the long run.