The following article is about a Manitoba Employer who has benefited from hiring someone with a disability. It was originally published in the Winnipeg Free Press and collected through an initiative called "Perspectives in Change".
Celebrating Progressive Employers and Capable Employees
Greystone Managed Investments
By Sylvia Jansen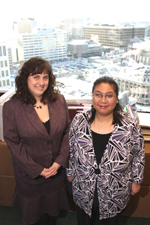 L-R, Donna Kramer and Hazel Carganilla
Photo: Lisa Waldner
Let someone prove they can take responsibility. Have an open mind.
This is good, sound advice for any employer considering a new hire. It is the advice that Greystone Managed Investments in Winnipeg offers to other employers. The people of Greystone are open to employing persons with physical or intellectual disabilities, because they know that having an open mind is part of the formula for success. For seven years Hazel Carganilla has been an important member of the Greystone staff. Her contribution helps her colleagues to be more efficient; their success has also inspired Greystone's Regina office to hire people with disabilities.
When Carganilla first came to Greystone, her supervisor Donna Kramer assigned a few basic clerical duties. Later, when changes around file maintenance occurred for Greystone in Winnipeg, they needed to re-consider this level of clerical support. However, they knew that Carganilla was a good employee who wanted to work.
When the agency that supports Carganilla made a few suggestions, the people of Greystone realized they had a successful plan, without needing to modify how the firm does business. Carganilla now takes responsibility for filing, photocopying, and clerical work as well as managing office, boardroom and kitchen supplies. Kramer easily recognizes the benefits, since she herself used to fit these tasks into her main responsibilities, taking her away from her main focus. "It's amazing how things have shifted," says Kramer. "I now have far more time to assist our professionals efficiently."
"Our experience with Hazel has opened our eyes and our hearts to see that people with disabilities can be independent and productive," observes Kramer. "Hazel has learned a lot; she has grown in her own job, and she has helped us all grow as people."
Connecting Employers and People
It's about good business. Many employers find a good fit with an employee with an intellectual or developmental disability means increased success—and the benefits can be surprising. Supported employment agencies help connect the right person with the right employer. Agencies help with training, and they provide ongoing support to employee and employer — all without cost to the employer.
The agency that connected Hazel Carganilla with Greystone Managed Investments is WASO, 500 – 167 Lombard Ave. Winnipeg, R3B 3E5,
204-667-9494.
Sponsored by Perspectives in Change
Thank you Manitoba Marathon... succeeding in the long run.