The following article is about a Manitoba Employer who has benefited from hiring someone with a disability. It was originally published in the Winnipeg Free Press and collected through an initiative called "Perspectives in Change".
Celebrating Progressive Employers & Capable Employees
Pitblado LLP
By Sylvia Jansen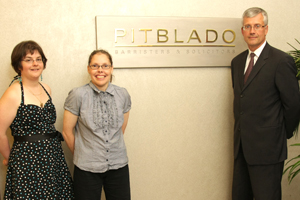 L-R, Melanie Janis, Elin Anderson and Bruce King
Photo: Lisa Waldner
In many large workplaces, staff kitchens sport instructional signs that say "Your mother doesn't work here" to encourage a clean work space. But when a law firm is working on complex problems and time pressures, tidying is not that simple. Items are forgotten on tables. Good business etiquette means not asking clients to do the dishes. Tidying and ordering supplies is often delegated to staff who have other pressing duties.
At leading Winnipeg law firm Pitblado LLP their signature of finding effective solutions to complex challenges means there are no instructional kitchen signs. With the assistance of supported employment agencies, and two dedicated people who live with intellectual disabilities, the solution is as easy as it is innovative.
Elin Anderson and Melanie Janis are service clerks whose job duties include maintaining the clean, organized appearance of all public areas, coffee stations and boardrooms, and organizing supplies. With sixty lawyers and almost eighty support staff, there is plenty of work: Anderson works full time, while Janis works half time at Pitblado and half time with another company. Managing partner Bruce King is clear about their contribution: "Elin and Melanie make sure that standards are high. Everything is spotless. They inspire others by showing consistency, loyalty and dedication to the job."
Human resources administrator Elaine Ferguson agrees: "They help the firm to be professional and efficient. They also send a positive message that the firm supports an inclusive environment." They are proud of their work, they enjoy the people, and they earn competitive salaries.

What advice would they have for another employer? "These are terrific contributions," says King. "It is only if you don't know who to contact, or how to think about it, that you might not do this."
Connecting Employers and People
It's about value added. Many employers discover that a good fit with an employee with an intellectual disability means increased success for everyone. Supported employment agencies connect the right people with the right employer, help with training and provide ongoing support to employee and employer — all without cost to the employer.
The agency that works with Elin Anderson is SCE LifeWorks, Winnipeg, 204-775-9402.
The agency working with Melanie Janis is WASO, 500 – 167 Lombard Ave. Winnipeg, R3B 3E5, 204-667-9494.

Sponsored by Perspectives in Change
Thank you Manitoba Marathon... succeeding in the long run.