The following article is about a Manitoba Employer who has benefited from hiring someone with a disability. It was originally published in the Winnipeg Free Press and collected through an initiative called "Perspectives in Change".
Celebrating Progressive Employers & Capable Employees
Serta Mattress Company
By Sylvia Jansen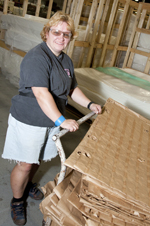 Delores Chodachek at work
Photo: Lisa Waldner
"Delores is a member of the team who helps our company be more successful."
Benjamin Kay, President and Chief Operating Officer of Serta Mattress Company in Winnipeg, offers this high praise for Delores Chodachek, the Facility Cleaner of the company.  Chodachek has worked for the company for over two years, and lives with an intellectual disability. 
Employing about fifty staff, Serta Mattress Company produces mattresses and box springs in the Winnipeg plant.  In addition to other cleaning tasks, the Facility Cleaner's responsibilities include ensuring that aisle ways are clear and safe, allowing the direct operators to be more efficient in their primary functions. "She works smart as well as hard," says Kay.  Doug Debets, Operations and Facility Manager agrees.  "She uses good judgment to ask which fabrics are useable and which are not," he remarks.  "Her work in this position helps everyone be more efficient." 
The company has needed no special arrangements in employing Chodachek, and employs several other persons with intellectual or developmental disabilities.  The supported employment agency that works with Chodachek checks in regularly, and helps sort out questions from either employer or employee.  "Be open to finding a good match," Kay suggests for any other employer considering hiring a person with a disability.  The benefits of having her on staff are clear, he says.  "Delores is a hard worker, a smart worker and a good employee."
"The employees are an important part of the big picture with our company," says Kay.  "If they work smart, we all succeed.  And Delores is key to that success."
Connecting Employers and People
It's good business.  Many employers discover that a good fit with an employee with an intellectual disability means reduced turnover and increased success for everyone.   Supported employment agencies help connect the right people with the right employer.  They help with training, and they provide ongoing support to employee and employer—all without cost to the employer. 
The agency that connected Delores Chodachek with Serta Mattress Company in Winnipeg is Premier Personnel, 509 – 428 Portage Avenue, Winnipeg, 204-949-1474.
Sponsored by Perspectives in Change
Thank you Manitoba Marathon... succeeding in the long run.