The following article is about a Manitoba Employer who has benefited from hiring someone with a disability. It was originally published in the Winnipeg Free Press and collected through an initiative called "Perspectives in Change".
Celebrating Progressive Employers & Capable Employees
Boston Pizza
By Sylvia Jansen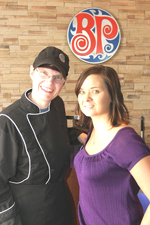 Debbie Baziniak and
Gerri McCaughan
Photo: Lisa Waldner
A good employee is worth keeping. A great employee is worth fighting for.
Boston Pizza on McPhillips Street in north Winnipeg has an employee worth fighting for in Debbie Baziniak, a modest kitchen prep cook who lives with an intellectual disability.
"We deserved her more," says general manager Gerri McCaughan. Two years ago the restaurant management heard that they might lose Baziniak to another employer offering more hours and money for her work. "So we made a counter offer to keep her here, with us." The offer was enough for the loyal employee to stay, and the entire staff team appreciates her decision. "We have the lowest turnover for staff in Winnipeg," notes McCaughan, "and Debbie is an awesome part of that team. She does everything she is assigned. She is helpful, friendly, upbeat and she loves her job. It is reassuring to know that Debbie is here. She helps the business succeed."
Part of this success stems from a common sense re-alignment of roles that made the kitchen, and the restaurant, more efficient. Duties that were previously done by a number of other staff, including portioning food for cooks to use during rush periods, are now Baziniak's main responsibility. Crystal Lachance, Baziniak's supervisor, notes that "Debbie always weighs portions, so they are exactly the same. Being careful and consistent are important." Lachance adds that Baziniak has also successfully taken on other new responsibilities as well.
The fact that Baziniak contributes to the success at Boston Pizza comes from management's focus on abilities, rather than disabilities. McCaughan emphasizes that other employers should consider the contribution of someone with an intellectual disability. "Debbie has conquered all the hurdles in her life and is one of the most inspiring people I have ever met."
Clearly, an employee worth keeping, and worth fighting for.
Connecting Employers and People
It's about good business. Many employers discover that a good fit with an employee with an intellectual disability means reduced turnover and increased success for everyone. Supported employment agencies help connect the right people with the right employer. They help with training, and provide ongoing support to employee and employer — all without cost to the employer.
Connect Employment Services Inc, Winnipeg, 204-474-1959, connected Debbie Baziniak with Boston Pizza at 2211 McPhillips.
Sponsored by Perspectives in Change
Thank you Manitoba Marathon... succeeding in the long run.