The following article is about a Manitoba Employer who has benefited from hiring someone with a disability. It was originally published in the Winnipeg Free Press and collected through an initiative called "Perspectives in Change".
Celebrating Progressive Employers and Capable Employees
Safeway
By Sylvia Jansen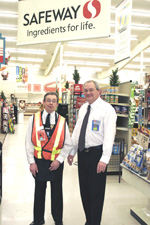 Darryl, together with Brent Severyn, Store Manager
Photo: Lisa Waldner
Safeway knows that some of the most visible people in the store are the Courtesy Clerks—those who bag our groceries, who find that suddenly-remembered item, and who help us cart everything to our car. It is an important position that requires the right person. Main and Luxton Safeway in Winnipeg has one of the best in Darryl, the store's longest serving Courtesy Clerk, who also happens to live with an intellectual disability.
Safeway values diversity in its employment practices, earning numerous awards for their initiatives throughout North America—but there is a lot more to it. Peter Darowski, Safeway's Human Resource Director, explains that the practice is just good business. "It's good business for the people in our stores to represent the communities we serve," he says, "and people with disabilities are in our communities and our families. It's good business because people working with intellectual disabilities really want to work—and an enthusiastic employee is invaluable. It's also good business because these employees make a profound, human connection among staff and customers alike," says Peter.
Darryl, at the Main and Luxton Store, clearly loves his work: he says he has a "dream job." Manager Brent Severyn values that contribution. "Darryl is our senior Courtesy Clerk. He is reliable, respectful to all, and he enjoys helping people. What more could I ask for?" he says. "It takes an exceptional person to connect with people at all levels," Brent adds, "and Darryl does it well."
What advice would Brent give to another employer in hiring someone with an intellectual disability? "Meet the individual," he offers. "Work with the support agency. And be open to exploring the possibilities." It might mean layering new responsibilities carefully, but for the individual, their workplace, and the people they meet, the long-term benefits are immeasurable.
Connecting Employers and People
People with disabilities can succeed, and help their workplaces succeed. Supported employment agencies connect capable people with intellectual or developmental disabilities with the right employer, and with the right kind of work. The agencies help find good matches between people and employers, help with training, and provide ongoing support both to employee and employer. All agency services are without cost to the employer.
Darryl's support agency is Connect Employment Services Inc Winnipeg,
204-474-1959.
Sponsored By Perspectives in Change
Thank you Manitoba Marathon... succeeding in the long run.