The following article is about a Manitoba Employer who has benefited from hiring someone with a disability. It was originally published in the Winnipeg Free Press and collected through an initiative called "Perspectives in Change".
Celebrating Progressive Employers and Capable Employees
Montana's Cookhouse on Empress Street
By Sylvia Jansen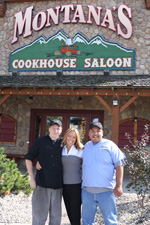 Andrew Hooper, Trina Neilson and Darrell Scott
Photo: Lisa Waldner
When guests arrive at Montana's Cookhouse on Empress Street in Winnipeg, they can expect good, hearty food and healthy portions of genuine hospitality. Good food comes from quality ingredients well prepared; genuine hospitality comes from the right mix of good people and the quality of their care, for the guest and for each other. A natural leader behind the scenes in the kitchen is the senior dishwasher Darrell Scott, who lives with an intellectual disability.
Darrell's contribution goes beyond the spotless dishes he sends out to guests. He assists in preparation, stocking supplies and many other tasks. "He's one of the unsung heroes. The whole restaurant revolves around Darrell and his work," comments Andrew Hooper, a colleague in the kitchen. He remarks that Darrell's dependability, his willingness to help wherever needed, and his sense of humour all contribute to their success. For his part, Darrell clearly takes pride in everything he does and enjoys working with his colleagues.
In an industry where staff turnover is always a concern, Darrell has become one of the longest serving staff members, and the highest paid dishwasher. "He participates in training new staff," says Trina Neilson, general manager, "not just because he has good technique but because he has a great attitude." She adds that if he sees snow that needs to be shoveled, or someone in the kitchen who needs a hand, he is ready to help.
What would his employer say to someone considering hiring a person with an intellectual or learning disability? "Give the person an opportunity," says Neilson. "If you do, they'll find their niche. Everyone has a talent or a quality that can make a great employee," she notes. In Darrell Scott, Montana's has someone whose talent and approach is part of the hospitality.
Connecting Employers and People
It's about good business. Many employers discover that a good fit with an employee with an intellectual disability means reduced turnover and increased success. Supported employment agencies help connect the right people with the right employer. They help with training, and they provide ongoing support to employee and employer — all without cost to the employer.
The agency that connected Darrell Scott with Montana's is SCE Lifeworks, Winnipeg, 204-775-9402.
Sponsored by Perspectives in Change
Thank you Manitoba Marathon... succeeding in the long run.