The following article is about a Manitoba Employer who has benefited from hiring someone with a disability. It was originally published in the Winnipeg Free Press and collected through an initiative called "Perspectives in Change".
Celebrating Progressive Employers & Capable Employees
Precision Metalcraft Inc.
By Sylvia Jansen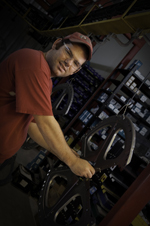 Damon Nickel at work
Photo: Lisa Waldner
"Getting the match between employer and employee is important.  The rest of it is easy."
Graham Moore, vice-president of operations at Precision Metalcraft Inc. in Winnipeg, knows that employing a person with a developmental disability is a good business decision for his company.  
Precision Metalcraft produces metal products for use in electronics, health care and telecommunications. The standard for performance is an exacting one.  Employees are expected to ensure that every stage of work, from production to shipping, is done with the highest attention to detail.  One of the trusted employees working in the paint plant is Damon Nickel, who lives with a developmental disability. 
Moore reports that Nickel is reliable and consistent in all his work.  "Damon does many different tasks throughout any work day, and he meets the high standard required to produce quality products," says Moore. Nickel's responsibilities include fine detailed work in preparing materials for painting, and he has trained others in the preparation area.  Nickel has also taken on responsibilities in painting and powder coating, and is willing to take on new tasks when needed.
Nickel has worked at Precision Metalcraft for almost four years, following a referral from a supported employment agency.  Moore highly recommends using the help of such an agency.  "People just need to be in the right situation. Training with Damon is not an issue.  He understands the reason for health and safety issues, and he wants to do a good job. He is one of the most reliable employees on staff."
Connecting Employers and People
It's good business.  Many employers discover that a good fit with an employee with a developmental disability means reduced turnover and increased success for everyone.   Supported employment agencies help connect the right people with the right employer.  They help with training, and they provide ongoing support to employee and employer—all without cost to the employer.  The agency that connected Damon Nickel with Precision Metalcraft Inc. is Premier Personnel, 509 – 428 Portage Avenue, Winnipeg, (204) 949-1474, www.premierpersonnel.ca.
Sponsored by Perspectives in Change
Thank you Manitoba Marathon . . .succeeding in the long run.