The following article is about a Manitoba Employer who has benefited from hiring someone with a disability. It was originally published in the Winnipeg Free Press and collected through an initiative called "Perspectives in Change".
Celebrating Progressive Employers & Capable Employees
Steinbach Sobeys
By Sylvia Jansen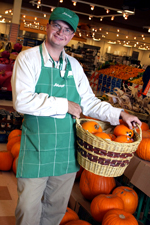 Curtis Doerksen at work
Photo: Lisa Waldner
Central values for the large supermarket chain Sobeys include the call always to put the customer first; to get it done with passion and integrity; to stay real; and to serve their communities proudly. At Sobeys in Steinbach, one of the employees whose work reflects these values is Curtis Doerksen, someone who lives with an intellectual disability.
Doerksen is one of the longest serving courtesy clerks at the Steinbach Sobeys: he has worked there since 2004. "Curtis is one of those long term employees who form the core of our staff," says Michelle Klippenstein, Doerksen's supervisor. Store management is proud to say that they have a number of employees with long service records. Klippenstein adds, "people in our community appreciate that the store has continued to employ people throughout their careers." Doerksen is proud to be part of the team. "I grew up in Steinbach, and I am happy to be helping people here," he says.
As a courtesy clerk, Doerksen's work is highly visible to customers. He assists customers by bagging groceries and at parcel pick-up; he retrieves carts from the parking lot; he cleans occasional spilled items. Klippenstein notes that "he has such a strong work ethic and such a positive attitude" that customers feel confident with his help.
Hiring someone with an intellectual disability is simply a matter of fitting the right person to the right work, says Klippenstein. "And it is important for work to be meaningful."
Every community needs people who are willing to devote themselves to the straightforward tasks of helping people in the ordinary transactions of life. Curtis Doerksen is one of those people that every community needs.
Connecting Employers and People
It's about good business. Many employers discover that a good fit with an employee with an intellectual disability means reduced turnover and increased success for everyone. Supported employment agencies help connect the right people with the right employer. They help with training, and they provide ongoing support to employee and employer — all without cost to the employer.
The agency that connected Curtis Doerksen with Sobeys is Eastman Employment Services in Steinbach, 204-326-4099.

Sponsored by Perspectives in Change
Thank you Manitoba Marathon... succeeding in the long run.