The following article is about a Manitoba Employer who has benefited from hiring someone with a disability. It was originally published in the Winnipeg Free Press and collected through an initiative called "Perspectives in Change".
Celebrating Progressive Employers and Capable Employees
MTS Allstream, Inc.
By Sylvia Jansen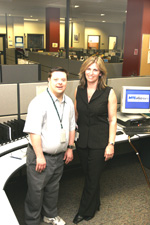 Craig and Nickie
at MTS Allstream
Photo: Lisa Waldner
Every automated system relies on people to take care of problems. At MTS Allstream's Corydon offices in Winnipeg, one of the key people is Craig. He is the person responsible for sorting error reports and re-directing them to the right staff person. Craig has an important role—and it shows that his disability does not define who he is or what he can do.
Nickie McKim, Manager of Facilities Assignment, says that Craig's work helps enormously. "His work has freed other staff to be more effective in their own work," she says. "That helps us respond to customers more quickly."
Sorting error reports originally went to each person according to area of responsibility, but aligning them in one job for Craig has made the entire department more efficient. His is straightforward, but time-consuming work, and Craig does it with care and enthusiasm. Craig has been with MTS Allstream for almost 15 years, a reliable, productive worker who enjoys earning a regular part-time salary and benefits. A supported employment agency is available to help with questions or follow-up training.
Moreover, Craig's presence is more than a practical contribution—he makes the place more human. "The relationships he encourages exceed expectations," says Nickie. And there is no added work for management: "The only difference between him and others is that I might check to clarify any new directives."
Would his manager recommend this sort of arrangement to other employers? Absolutely, says Nickie. "In any large workplace, there is always a portion of work that could be moved to one person and make everyone more effective."
More effective work, better customer response, and a happier workplace. It's easy to do if you see the potential.
Connecting Employers and People
Many employers find that people with disabilities bring success to those around them. Supported employment agencies work in partnership with employers, connecting capable people with intellectual or developmental disabilities with the right employer, and the right kind of work. The agencies help find good matches between people and employers, help with training, and provide ongoing support both to employee and employer. All agency services are without cost to the employer.
Craig's support agency is SCE Lifeworks, Winnipeg, 204-775-9402.
Sponsored by Perspectives in Change
Thank you Manitoba Marathon... succeeding in the long run.