The following article is about a Manitoba Employer who has benefited from hiring someone with a disability. It was originally published in the Winnipeg Free Press and collected through an initiative called "Perspectives in Change".
Celebrating Progressive Employers and Capable Employees
Agriculture and Agri-Food Canada
By Sylvia Jansen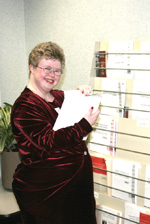 Catherine at work
Photo: Lisa Waldner
"She has opened all our eyes to what people with disabilities can do."
Kevin Feely, Manager, Administration with the Farm Income Programs Directorate of Agriculture and Agri-Food Canada, knows that he has a star in a modest mail-room clerk.
The federal government department manages farm income support programs, and has a large national client base. Their pace is brisk throughout the year. They depend on people like their mail room clerks to keep everything moving, and they especially depend on Catherine, an employee who happens to have an intellectual disability.
Catherine has been a loyal and dedicated employee of Agriculture Canada for twelve years. She acts as an in-house courier among their downtown offices; she documents and tracks correspondence on the computer; she takes care of recycling, ensuring that only non-confidential paper is recycled, and happily takes on any assigned tasks. "I love my work," she says. Catherine loves helping people, and it shows.
"I had never worked with anyone who had special needs before I met Catherine," says her supervisor Lori Puddifant, "But she showed us what a person can do and is capable of doing." Lori notes that Catherine is attentive and dependable: "Tell her once, and it's done."
Kevin agrees that Catherine is a huge asset. "She is reliable, honest, and hardworking. Her enthusiasm rubs off on people. We need more people like Catherine in the workplace."

What advice would they give another employer? "If you have work to be done, go to a [supported employment] agency, and ask if there's someone who would be suitable," suggests Kevin. "You need to understand that there's a learning curve—but that's true for anyone," he adds. "Just give them a chance."
Connecting Employers and People
People with disabilities can succeed when they are connected with the right employer and the right kind of work. Supported employment agencies exist to make successful connections. These agencies find good matches between people and employers, they help with training, and they provide ongoing support to employee and employer. All agency services are without cost to the employer.
Catherine's support agency is SCE Lifeworks, Winnipeg, 204-775-9402.
Sponsored by Perspectives in Change
Thank you Manitoba Marathon... succeeding in the long run.